Please refresh your browser or allow it to set cookies if this page displays outdated meeting information.
If your browser flags this website as 'insecure', please edit your bookmark to: https://www.pittsburghgeologicalsociety.org/
Special thanks to our corporate sponsors

Please see our new job postings section from corporate sponsors below! Other relevant job postings may be found in the "other events" section near the bottom of this page.

THG is seeking several part time, temporary geophysical field technicians. See the official posting below for more information.

American Geosciences is currently seeking several environmental professionals including positions as PROJECT MANAGER, and ENVIRONMENTAL COMPLIANCE SPECIALIST. See the official posting below for more information.

Pennsylvania Drilling Co. is seeking a PROJECT MANAGER, with a full job posting below. Full-time, $55,000-$68,000 per year, salary based on experience.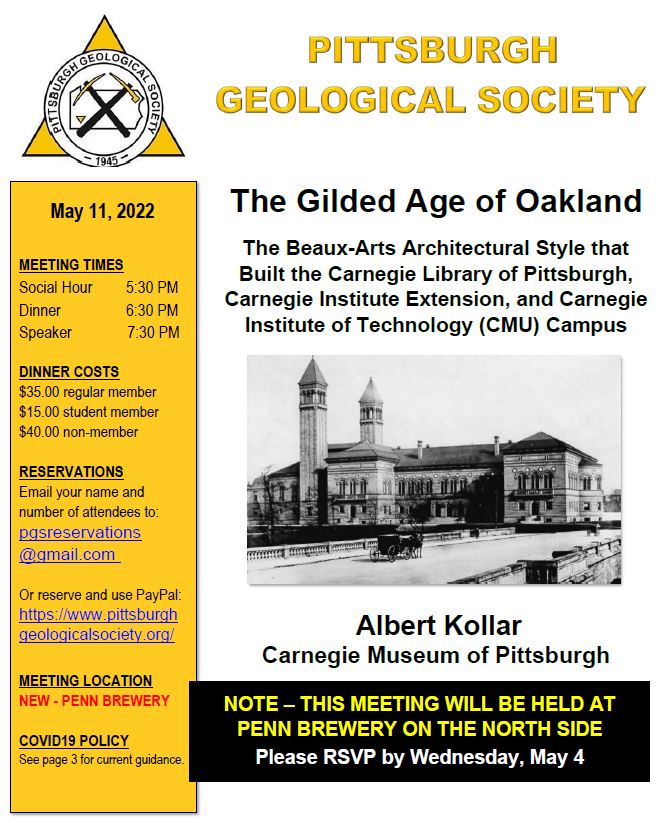 The may meeting for pgs will take place on wednesday, may 11 at penn brewery (North side) in pittsburgh!
announcements from the april meeting
Congratulations to the student presenters from the joint PGS, AEG, ASCE-GI student research meeting! Well done!
Keep an eye on your email for information regarding election of board members for the 2022-2023 program year. Remember that all membership is encouraged to get active with the society and to consider running for a board or committee position!
The joint Southeastern and Northeastern section meeting for the Geological Society of America will take place from March 17-19, 2023 in Reston, Virginia. Proposals for technical sessions, short courses, and field trips may be submitted at the section meeting website HERE
​A virtual landslide field trip authored by Jim Hamel and constructed by Brett McClinton as lead of the virtual field trip task force has been finalized and is ready for distribution. This trip will be accessible at no cost to PGS members and at a cost of $30 for non-members. Please use the "contact us" form on the website to request access. Note that a google account or gmail account will be required to access the virtual landslide trip.
New pgs online apparel store
PGS now has an online apparel store located at
https://apparelnow.com/pittsburgh-geological-society-apparel
. There are shirts, hats, mugs, water bottles, hoodies, bags, blankets, etc., all with the PGS logo prominently displayed. Best of all, all profits go to the Galey Fund, which helps offset the cost of meals for student members. So proudly wear, carry, or display your affiliation with the best geological society in western Pennsylvania and know that you are also helping to support student participation in our nine annual meetings.
---
Congratulations to the 2021 Frank Benacquista scholarship award winners: Austin Keirs (Slippery Rock University) and Ellie Ruffing (California University of PA)! Thanks again to
THG Geophysics
and Pete Hutchinson for their generous donation in support of this scholarship opportunity.
---
Please note that PGS is monitoring the COVID-19 situation closely and will continue to modify policy based on the recommendation of national and local experts. We ask that our members please consult and follow the US Centers for Disease Control and Prevention (CDC) recommendations for Allegheny County.


The following describes the intended meeting structure for the 2021-2022 program year (subject to change, times in Eastern Standard):

In-person location: Cefalo's Banquet and Event Center, 428 Washington Avenue, Carnegie PA 15016

​Dinner Cost for in-person meetings: PGS Member: $35.00 PGS Student Member: $15.00 Any Non-Member: $40.00

Dinners will be available by reservation only. Please include the number of guests and preference to receive a PDH or continuing education credit.

Please fill out the form below to complete your registration. Payment options will be available upon completion of reservation form.


Meeting Registration
Times (ET):

In-person:
Social Hour: 5:30 to 6:30 pm
Dinner is served at 6:30 pm
Program starts at 7:30 pm

Location:
The May 11, 2022 meeting will take place at
Penn Brewery
800 Vinial St
Pittsburgh, PA 15212

Meetings are commonly held at
Cefalo's Banquet and Event Center
428 Washington Avenue
Carnegie PA 15016

Dinners are available by reservation only. No-shows will be charged.
OTHER Events OF GEOLOGICAL INTEREST

​
Job postings:
Become a Member of PGS
Are you interested in joining our society? We have several types of memberships available.
Visit our
Membership Page
to learn more.
---