Please refresh your browser or allow it to set cookies if this page displays outdated meeting information.
If your browser flags this website as 'insecure', please edit your bookmark to: https://www.pittsburghgeologicalsociety.org/
Special thanks to our corporate sponsors

Please see our new job postings section from corporate sponsors below! Other relevant job postings may be found in the "other events" section near the bottom of this page.

American Geosciences is currently seeking several environmental professionals including positions as PROJECT MANAGER, and ENVIRONMENTAL COMPLIANCE SPECIALIST. See the official posting below for more information.

Pennsylvania Drilling Co. is seeking a PROJECT MANAGER, with a full job posting below. Full-time, $55,000-$68,000 per year, salary based on experience.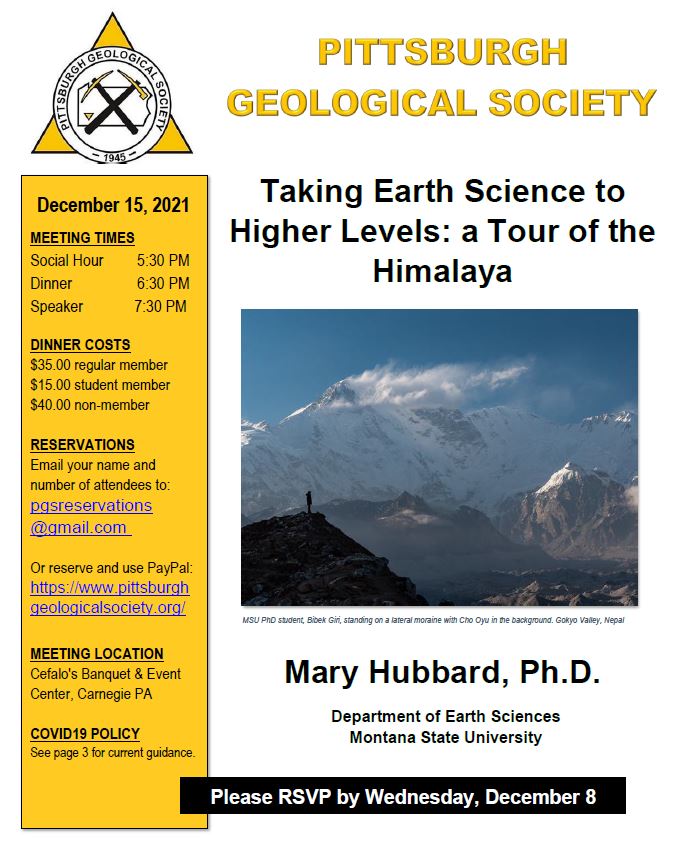 ---
Congratulations to the 2021 Frank Benacquista scholarship award winners: Austin Keirs (Slippery Rock University) and Ellie Ruffing (California University of PA)! Thanks again to
THG Geophysics
and Pete Hutchinson for their generous donation in support of this scholarship opportunity.
---
Please note that PGS is monitoring the COVID-19 situation closely and will continue to modify our mask policy based on the recommendation of national and local experts. The US Centers for Disease Control and Prevention (CDC) currently recommends the following:
Those who are not vaccinated should wear a mask indoors in all public places.
Those who have a condition or are taking medications that weaken their immune system should wear a mask indoors in all public places.
If you are fully vaccinated, to maximize protection from the Delta variant and to prevent possibly spreading it to others, you should wear a mask indoors in public places if in an area of substantial or high transmission. Allegheny County is classified as an area of high transmission.
To best align with the recommendations of the CDC, PGS strongly recommends that meeting attendees wear a mask and maintain social distancing to protect other meeting attendees and themselves. Masks may be removed when eating or drinking; however physical distancing is encouraged for those times. Please note that some members in attendance may qualify as immunocompromised, or may be caregivers for those who are, regardless of vaccination status.
The following describes the intended meeting structure for the 2021-2022 program year (subject to change, times in Eastern Standard):
In-person location (starting September, 2021)
: Cefalo's Banquet and Event Center, 428 Washington Avenue, Carnegie PA 15016
​Dinner Cost for in-person meetings:
PGS Member: $35.00 PGS Student Member: $15.00
Any Non-Member: $40.00
Dinners will be available by reservation only. Please include the number of guests and preference to receive a PDH or continuing education credit.
Please fill out the form below to complete your registration. Payment options will be available upon completion of reservation form.
Meeting Registration:

Times (ET):

In-person:
Social Hour: 5:30 to 6:30 pm
Dinner is served at 6:30 pm
Program starts at 7:30 pm

Location:
Cefalo's Banquet and Event Center
428 Washington Avenue
Carnegie PA 15016

Dinners are available by reservation only. No-shows will be charged.

DUE TO THE CORONAVIRUS OUTBREAK, ALL FIELD TRIPS ARE POSTPONED UNTIL FURTHER NOTICE.


OTHER Events OF GEOLOGICAL INTEREST

Job postings:
Become a Member of PGS
Are you interested in joining our society? We have several types of memberships available.
Visit our
Membership Page
to learn more.
---